Home /
Jaminan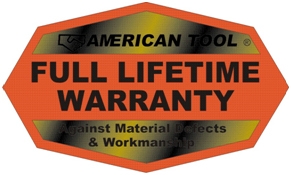 AMERICAN TOOL branded tools are known the world over as best-in-class tools that allow the end-user to complete jobs more quickly and reliably. However, there's added peace of mind with AMERICAN TOOL Full Lifetime Warranty. Should your tool ever malfunction from defects in workmanship or materials, We will repair or replace the tool free of charge.

- What is Covered
AMERICAN TOOL are warranted to be free of material and workmanship defects.

- How long Coverage Lasts
This Warranty lasts for the lifetime of AMERICAN TOOL. Warranty coverage ends when the product becomesunusable for reason other than
defects in workmanship or material.

- What is not Covered
Failures due misuse, abuse or normal wear and tear are not covered by this warranty . AMERICAN TOOL shall not be responsible for any
incidental or consequential damages.